Datum/Zeit
Date(s) - 26/05/2021
18:15 - 20:00
Kategorien
Fellow Talks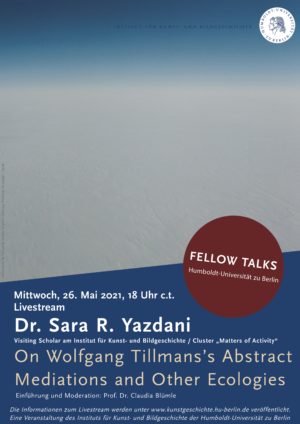 [2]
Dr. Sara R. Yazdani [3]
Visiting Scholar am Institut für Kunst- und Bildgeschichte / Cluster "Matters of Activity"
On Wolfgang Tillmans`s Abstract
Mediations and Other Ecologies
In this talk, I take Silver and the way in which those pieces were installed together with the Arctic works in the paradigmatic exhibition if one thing matters, everything matters at Tate Britain in 2003, as the place of departure for a closer inspection of Tillmans's abstract work, connecting the history of photography with artistic practices of the historical avant-garde inevitably concerned with the formal forces of colors, light, and other matter. My inquiry revolves around questions of processes and relations, or, to be more precise, how the abstract and representational images at Tate Britain were less concerned with representation or the familiar 1990s concept of indexicality, than with processes of mediations evolving between matter, bodies, technologies, and the natural world. My assertion is that the Silver and Arctic works as constellated in one of seven rooms at Tate Britain in 2003 attest to how photography provoked new understandings of materiality and ecology in the late 1990s and early 2000s, while gesturing toward a politicization of "nature" and challenges to the anthropocentric worldview.
Einführung und Moderation: Prof. Dr. Claudia Blümle
Bitte melden Sie sich für die Teilnahme an der Veranstaltung bei Cynthia Klinghammer an (sekretariat-bluemle@hu-berlin.de [4]). Nach erfolgter Anmeldung erhalten Sie die Login-Daten für das Zoom-Meeting. Vielen Dank.